Posted on 12 March 2018
Author: Issa Coultas

Multifactor Leadership Questionnaire™ Trainer's Guide
Second Edition Released
The long-awaited second edition of the MLQ Trainer's Guide has been released and is available exclusively from Mind Garden. The second edition guides trainers through the Full Range Leadership Development Workshop and using the MLQ II 360 Leader's Report with Authentic Leadership Styles. This trainer's guide includes all the information, handouts, and presentation materials leadership trainers need to develop their group across a full range of leadership behaviors. The biggest change from the first edition is updating the guide to feature Authentic Transformational Leadership as the optimal leadership profile.
Buy the MLQ Trainer's Guide (2nd Edition) Now
The new edition also includes:
Updated references
New sections on authentic transformational leadership and the Authentic Leadership Questionnaire
New slides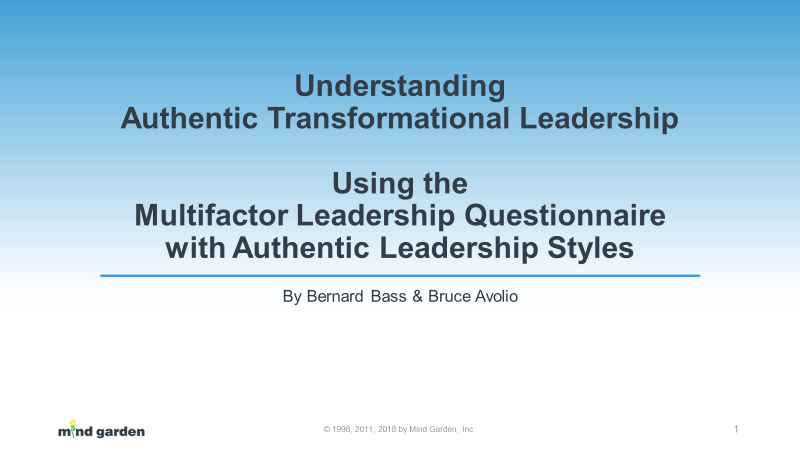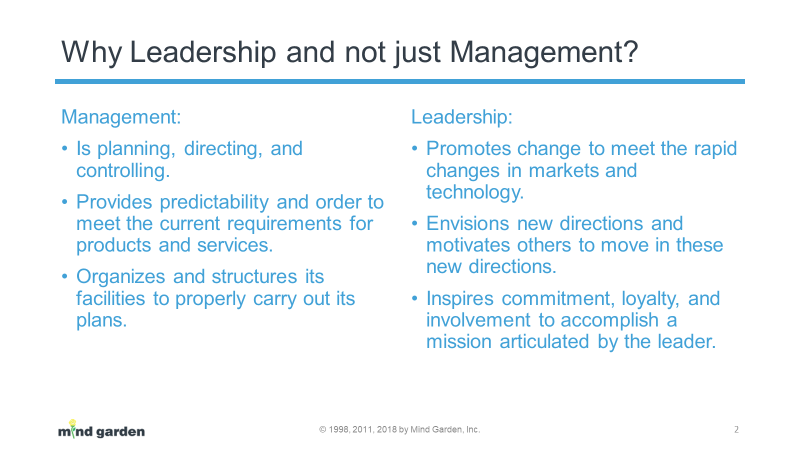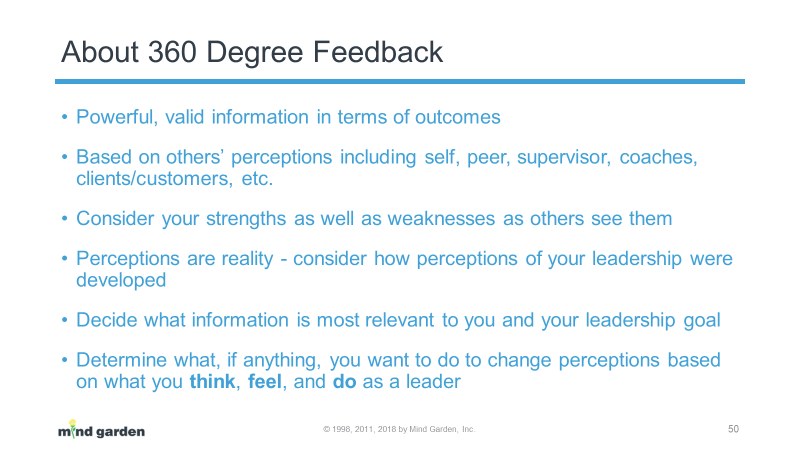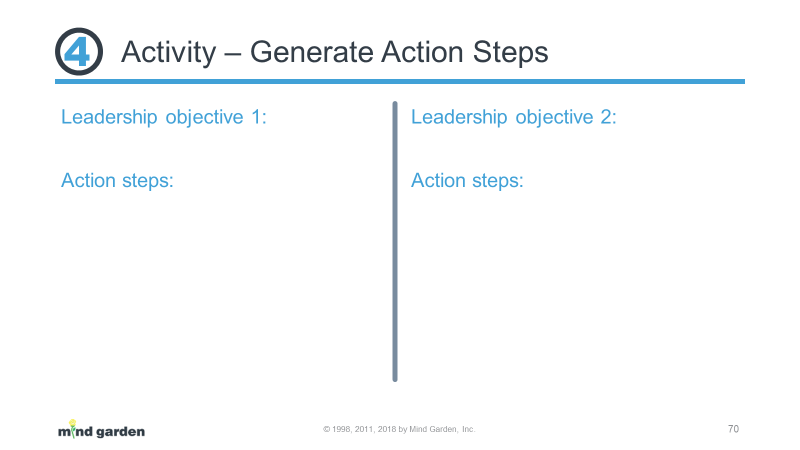 Sample slides from MLQ Trainer's Guide deck (included with purchase). Copyright © 1999, 2011, 2018 by Mind Garden, Inc.
New handouts:
Blueprint for Sustainable Leadership Development
Leadership Development Blueprint Worksheet
My Individual Leadership Action Plan
The Learning Center (Role Responsibilities)
Exciting graphics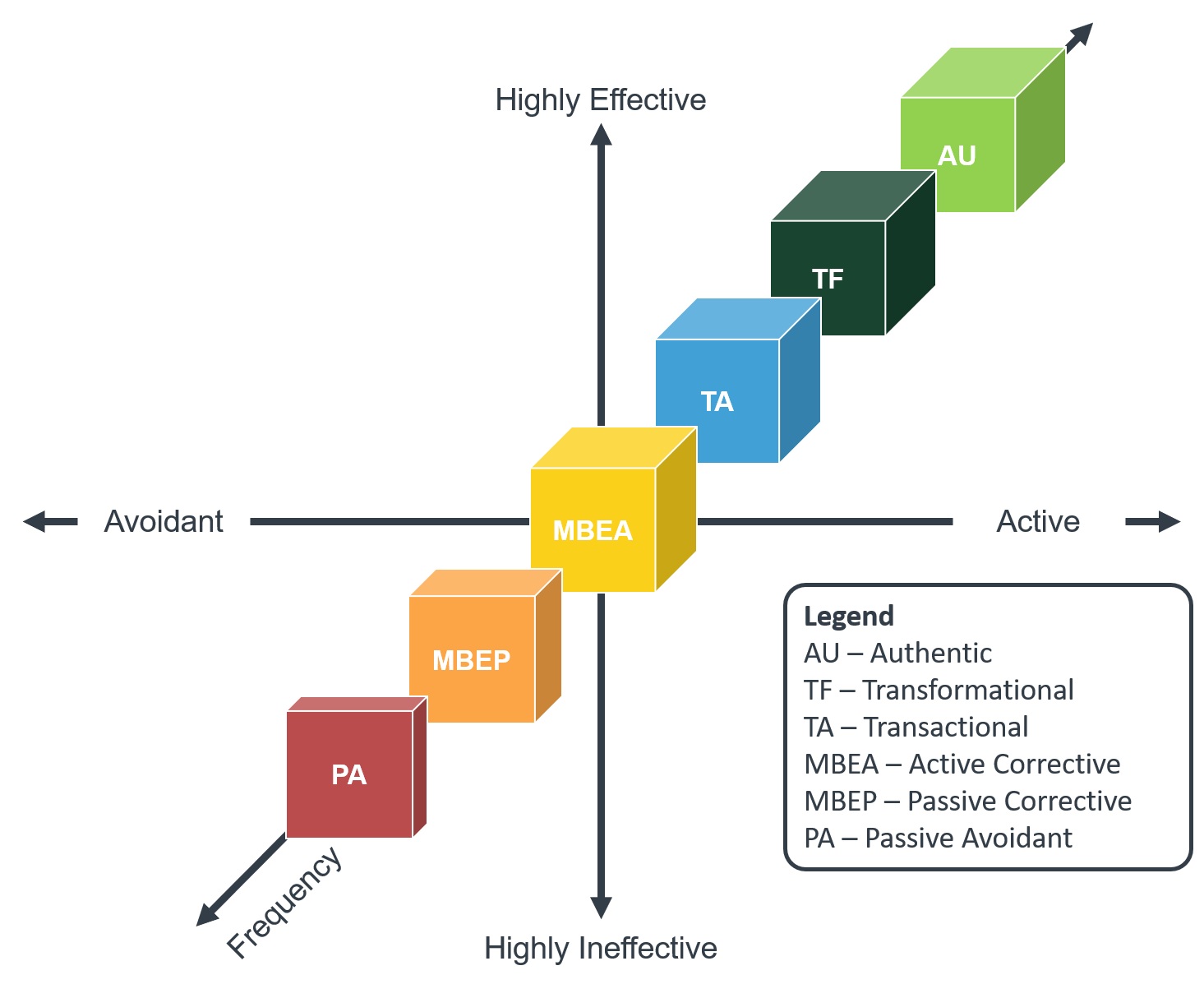 Sample graphic from MLQ Trainer's Guide. Copyright © 1999, 2011, 2018 by Bernard Bass & Bruce Avolio.
Table of Contents - MLQ Trainer's Guide Second Edition
Introduction
A Leadership Development Heuristic
Using this Resource Guide
Selected Readings
The Full Range Leadership Model
The Leadership Development Cycle
The Full Range Leadership Model
The Multifactor Leadership Questionnaire (MLQ)
Background
Assessments Available
Tips on Administration
Preparing Participants for Feedback for the MLQ and ALQ
The Feedback Process
Interpreting the MLQ
Developing an Action Plan
Typical participant questions about the MLQ or ALQ
The Leadership Training Process
Promoting the Leadership Development Process to Clients
Comparison to Other Leadership Models
Planning the Training or Coaching Session
Overview of the Training Program/Coaching Strategy
Follow-Up Boosters
Follow-up with the MLQII 360 and ALQ Leader's Report
The Basic Workshop
Workshop Synopsis
Overview of Sections
Introduction to the Day
Participant Introductions
My Ideal Leader
Classifying Leadership Characteristics
Introducing the Full Range Model
Introduction to the MLQ/ALQ
Reviewing MLQ Feedback
Reflections and Planning
Demonstrating Leadership Strategies
Leadership Blockages
Implementing Your Leadership Plan
The Learning Center
MLQ/ALQ Replanning
Evaluation and Close
Worksheets and Handouts
Workshop Slides
Exerpt from the MLQ Trainer's Guide "A Leadership Development Heuristic"
Welcome to our leadership development journey
In the past, common wisdom declared that transformational leadership was limited to world class leaders. It was the product of a lifetime of development and a matter permanently fixed by genes, childhood, education, and experience. Transformational leadership was not something you could teach because it was not supposed to be trainable.
Through our research and now based on thousands of research papers conducted by other authors, we know this assumption to be unfounded. If transformational leadership has not already been developed through life and work experience, then we know it can be trained through the Full Range Leadership Development Workshop.
The quality of this training program depends on you – the trainer – and how you model transformational leadership qualities. As the trainer, it is critical for you to inspire confidence, stimulate intellectual processes, and show concern for the individual development needs of your participants. By demonstrating the authentic, transactional, and transformational qualities, yourself, you not only teach participants what to do but you will also increase their identification with the qualities and process.
The primary goal of the Full Range Leadership Development Workshop is to take participants from a beginning stage of awareness of their own strengths and weaknesses as a leader, to a final stage of adapting and implementing new of revised orientations towards leading others. This model has application whether others are direct reports, co-workers in teams, clients, or even one's supervisor or someone else in a position of higher authority.
In the optimal scenario, participants will leave your workshop understanding their own implicit model of leadership, how it blends with the Full Range of Leadership model and how they can further develop and improve as a leader in today's demanding environment.
Copyright © 1999, 2011, 2018 by Bernard Bass & Bruce Avolio. All rights reserved.