The gold standard for measuring burnout in medical personnel
As the leading measure of burnout validated by more than 35 years of research, the Maslach Burnout Inventory (MBI) Human Services Survey for Medical Personnel specifically addresses the needs of the medical community. In combination with the Areas of Worklife Survey (AWS), the Maslach Burnout Toolkit will assess burnout among your medical personnel and identify key areas of strength or weakness in your organizational setting that may be causing burnout.

The Maslach Burnout Inventory (MBI) assesses:
Emotional Exhaustion: feelings of being emotionally overextended and exhausted by work.
Depersonalization: unfeeling and impersonal responses toward patients.
Personal Accomplishment: feelings of competence and successful achievement in one's work with patients.
The Areas of Worklife Survey (AWS) measures aspects of the work environment which may be contributing to burnout:
Workload: amount of work to be done in a given time. Workload measures the extent to which work demands spill into one's personal life. It reflects the social, physical, and intellectual burden of work demands.
Control: opportunity to make choices and decisions, to solve problems, and to contribute to the fulfillment of responsibilities. Control is the participation in important decisions about work and the range of professional autonomy.
Reward: financial and social recognition received for contribution on the job. Reward includes praise, awards, perks, and salary.
Community: quality of the social context at work, encompassing relationships with managers, colleagues, subordinates, and patients.
Fairness: extent to which the organization has consistent and equitable rules for everyone, or the quality of justice and respect at work.
Values: what matters to the individual in their work. The focus is the consistency between personal values and the values inherent in the organization.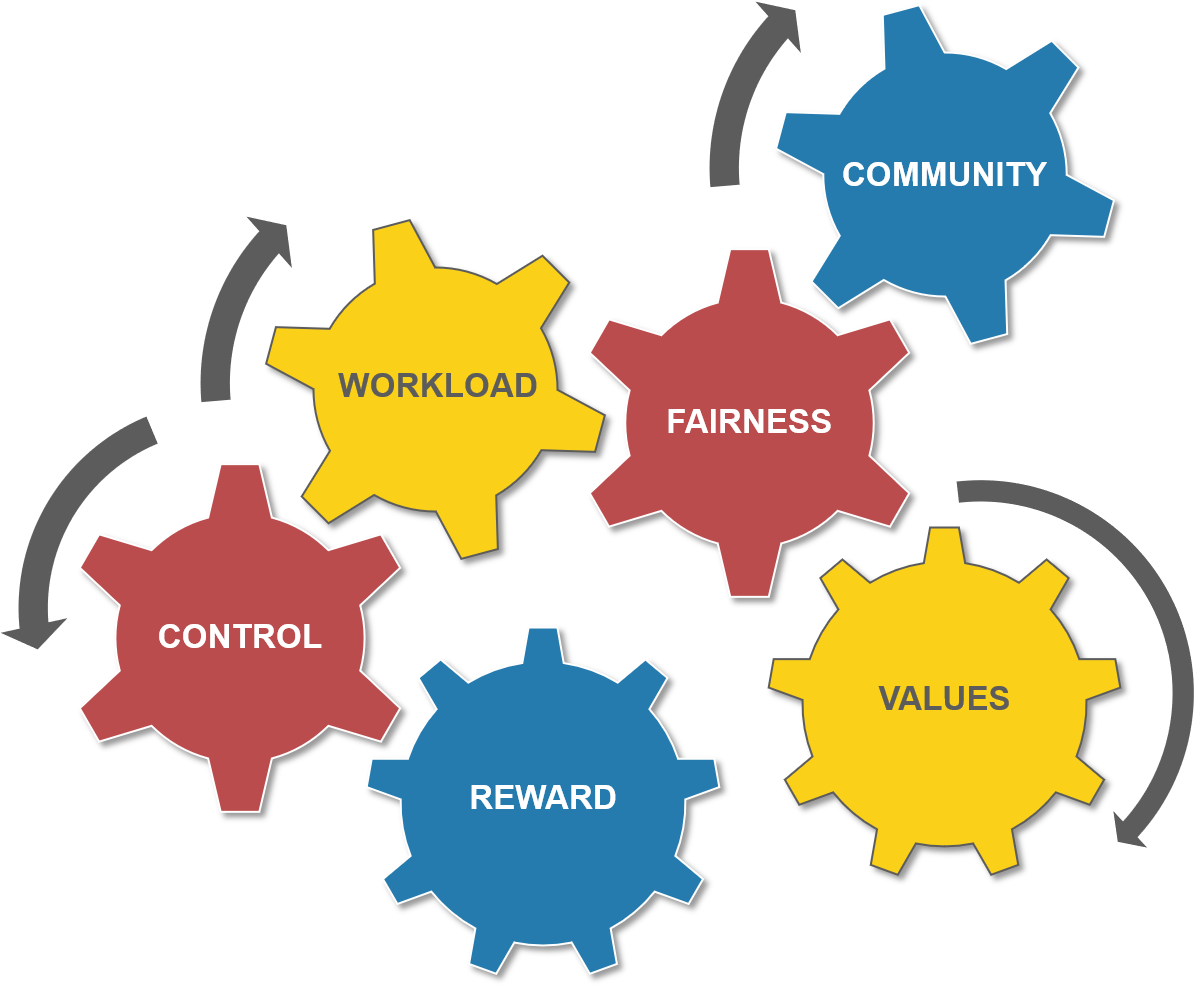 Products & Services to Help Assess Burnout in Your Organization
| | |
| --- | --- |
| | The Group Report calculates and summarizes average AWS and MBI scores for your organizational group. Use this tool to organize your group data and understand which areas in your organization are contributing to burnout. The Group Report provides guidance on what can be done to prevent and remedy burnout in your organization. |
---
Customize Your Survey and Reports
Organizations frequently want to sort their results by medical specialty, facility location, or other attributes. This enables administrators to focus remediation efforts where they are most needed. Mind Garden can customize your survey and reports to add demographics, logos and other instruments. If you use the standard list of medical specialties (see below), customization may not be needed.
Textual input items
Ask your participants open-ended questions to elicit powerful ideas for organizational improvement. Their responses will be included in the reports. Examples of questions:
What 2 or 3 things would promote wellness in this organization?

What gets in the way of this organization's wellness?

What keeps you from working efficiently?

What are the irritants in your job; "What is the pebble in your shoe?"

What do you see happening to patients/clients/customers which you don't think should happen?
Add other instruments to your survey
You can add other instruments to your survey for a fee. Listed below are some standardized instruments you may want to use to assess physician well-being:
Identify burnout solutions in organizational settings
A lot of burnout blogs and media stories advise changing personal behaviors to prevent or remedy burnout. Common advice includes managing exercise and sleep habits, and learning new coping strategies such as yoga and meditation. While changes to personal habits and routines can certainly help individuals become more resilient against burnout, they do nothing to address the actual areas of work that are causing stress in the first place. Burnout prevention and remediation begins and ends with organizational change.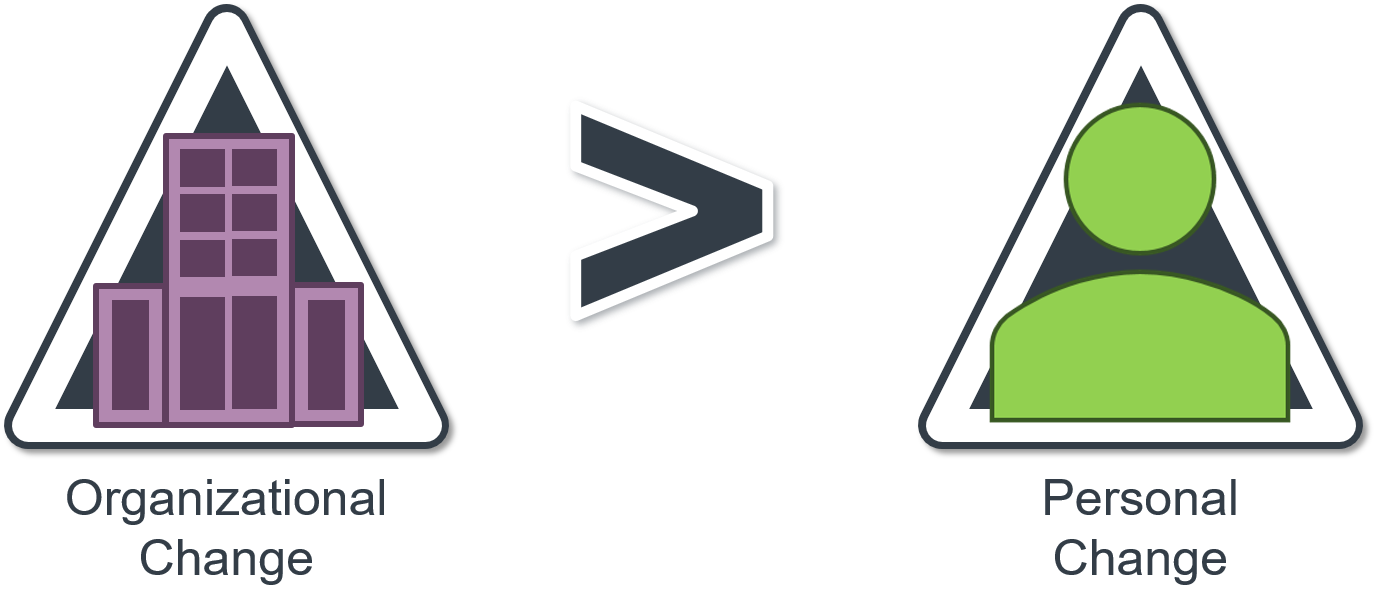 The root causes for every team's or department's burnout are organizational problems and therefore the solution rests in deliberate organizational change. For example, if Workload is one of the major problems, you can implement strategies to increase headcount for the team or adopt Lean Six Sigma practices. Or if there is a problem in Control, you can create a system to intervene in situations where employees feel micromanaged. Luckily, there are solutions to strengthen every work environment domain measured by the AWS - some simple and others more complex. The Maslach Burnout Toolkit Group Report lists intervention suggestions for each work area and is a great resource for designing burnout solutions.

Remember: in order to fully remedy and prevent burnout, solutions must focus on organizational change - not personal change. If the work environment continues to be overwhelming or toxic, no amount of exercise, sleep, yoga, or meditation will alleviate burnout for good. Be an organization against burnout - create meaningful change now!
Looking for Help with Solution Implementation?
IBM Watson Health's Simpler Consulting has a proven approach to help healthcare organizations address burnout. Simpler Consulting has experience with the Maslach Burnout Toolkit and can help transform those analyses into a meaningful and sustainable burnout solution. Learn more about Simpler Consulting's process in this Solution Brief, or contact Paul DeChant directly at pdechant@us.ibm.com.
(Mind Garden receives no financial compensation for this recommendation. We promote resources that we truly believe are valuable to our customers and originate from trustworthy sources.)
Burnout Solutions in Literature
Books:
Preventing Physician Burnout: Curing the Chaos and Returning Joy to the Practice of Medicine
DeChant, P., & Shannon, D. W. (2016). Preventing physician burnout: Curing the chaos and returning joy to the practice of medicine. North Charleston, SC: CreateSpace Independent Publishing Platform.
The Lean Prescription: Powerful Medicine for Our Ailing Healthcare System
Gabow, P. A., & Goodman, P. L. (2015). The Lean prescription: Powerful medicine for our ailing healthcare system. Boca Raton, FL: CRC Press.
Reignite: From Burned Out to On Fire.
Gaither, C. (2018). Reignite: From burned out to on fire. Lifestyle Entrepreneurs Press.
Banishing Burnout: Six Strategies for Improving Your Relationship with Work
Leiter, M. P., & Maslach, C. (2005). Banishing burnout: Six strategies for improving your relationship with work. San Francisco, CA: Jossey-Bass.
The Truth About Burnout: How Organizations Cause Personal Stress and What to Do About It
Maslach, C., & Leiter, M. P. (1997). The truth about burnout: How organizations cause personal stress and what to do about it. San Francisco, CA: Jossey-Bass.
Taking Action Against Clinician Burnout: A Systems Approach to Professional Well-Being
National Academies of Sciences, Engineering, and Medicine. 2019. Taking action against clinician burnout: A systems approach to professional well-being. Washington, DC: The National Academies Press.

Articles:
Making a Significant Difference with Burnout Interventions: Researcher and practitioner collaboration (Maslach, C., Leiter, M.P., & Jackson, S.E., 2012).
Maslach, C., Leiter, M.P., & Jackson, S.E., (2012. ). Making a significant difference with burnout interventions: Researcher and practitioner collaboration. Journal of Organizational Behavior, 33, 296–300.
Executive Leadership and Physician Well-Being: Nine Organizational Strategies to Promote Engagement and Reduce Burnout (Shanafelt & Noseworthy, 2016).
Shanafelt, T. D., & Noseworthy, J. H. (2016). Executive leadership and physician well-being: Nine organizational strategies to promote engagement and reduce burnout. Mayo Clinic Proceedings, 92(1), 129-146.
The Business Case for Investing in Physician Well-being (Shanafelt, Goh, & Sinsky, 2017).
Shanafelt, Goh, & Sinsky (2017). The Business Case for Investing in Physician Well-being. JAMA Internal Medicine, 119 (2), E1-E7. Includes an excellent Figure 1, "Typical Steps in an Organizations Journey Toward Expertise in Physician Well-being."
An Organizational Framework to Reduce Professional Burnout and Bring Back Joy in Practice (Swensen & Shanafelt, 2017)
Swensen, S. J., & Shanafelt, T. (2017). An organizational framework to reduce professional burnout and bring back joy in practice. The Joint Commission Journal on Quality and Patient Safety, 43(6), 308-313.
Prepare your organization for change
Your leadership team has responsibility for preparing employees for your solution, leading implementation of the solution, and soliciting feedback about the solution's effectiveness. Set up your burnout solution for success by developing Transformational Leadership and Psychological Capital. Together, Transformational Leadership and Psychological Capital (PsyCap) can create greater alignment around your vision for change, decrease cynicism, and build unit cohesion and commitment. Transformational Leadership and PsyCap can be measured and developed using the Multifactor Leadership Questionnaire™ (MLQ) and Psychological Capital Questionnaire (PCQ), respectively.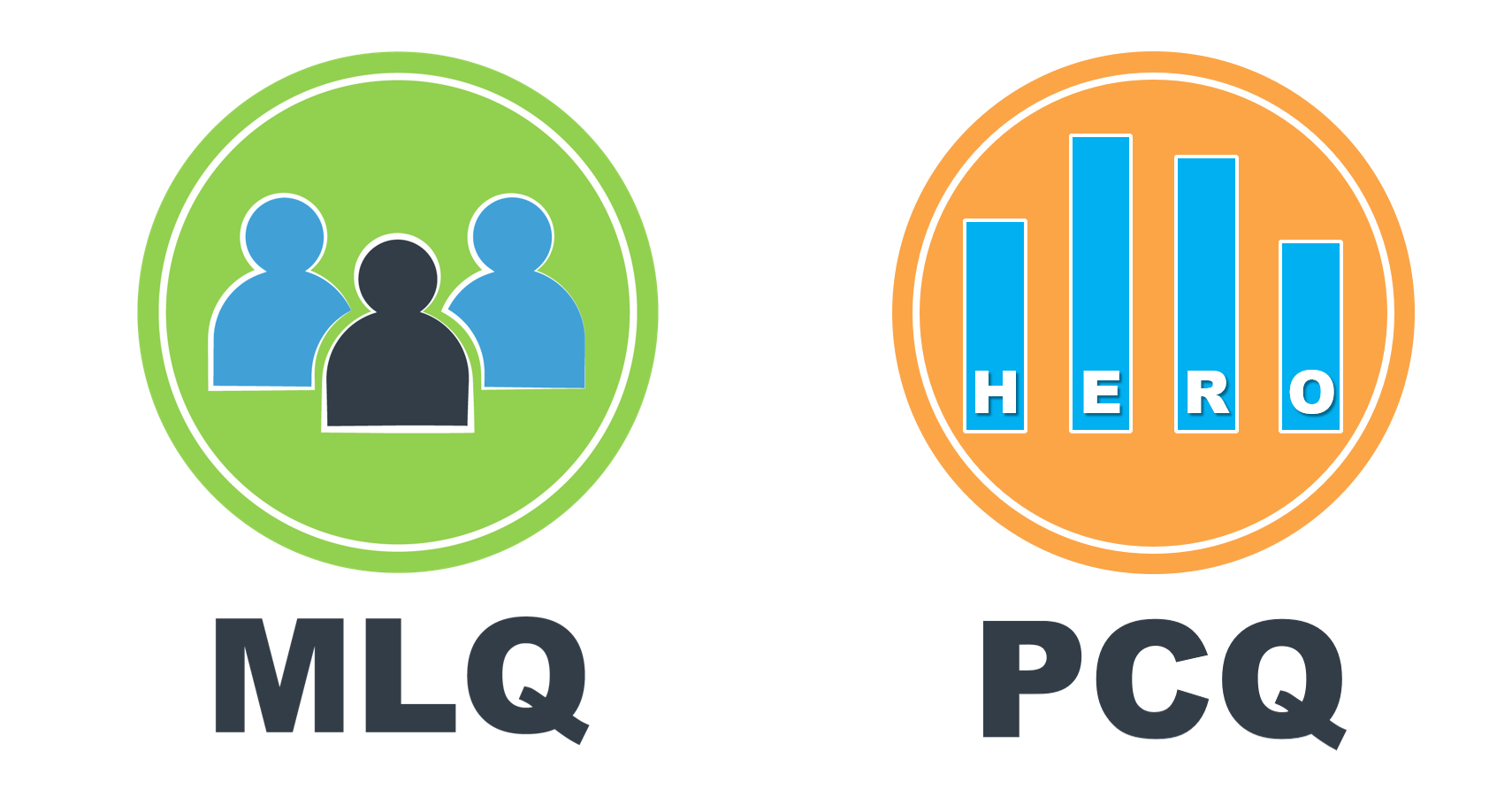 Transformational Leadership
Transformational leadership is influencing others' awareness of what is important. It moves people to see themselves and the opportunities and challenges of their environment in a new way. Transformational Leadership creates greater alignment around strategic visions and mission, greater unit cohesion and commitment, lower turnover, and safer work environments.
Why Transformational Leadership for today's healthcare organizations?
Healthcare organizations (a) are faced with turbulent conditions and rapid changes in technology, (b) must continuously develop employees to retain the best talent, and (c) are confronted with many more "unresolvable" and new problems.
The healthcare organization that supports and encourages the development of Transformational Leaders:
Projects an image of confidence, mission orientation, and commitment to personnel competence to its employees and patients;

Attracts higher quality personnel;

Produces more effective delegation;

Generates innovative solutions to problems;

Challenges and develops its people more fully, and on a continual basis; and

Is more productive and profitable.
Note: section adapted from Multifactor Leadership Questionnaire Trainer's Guide Second Edition by Bernard Bass & Bruce Avolio (Copyright © 1999. 2011, 2018).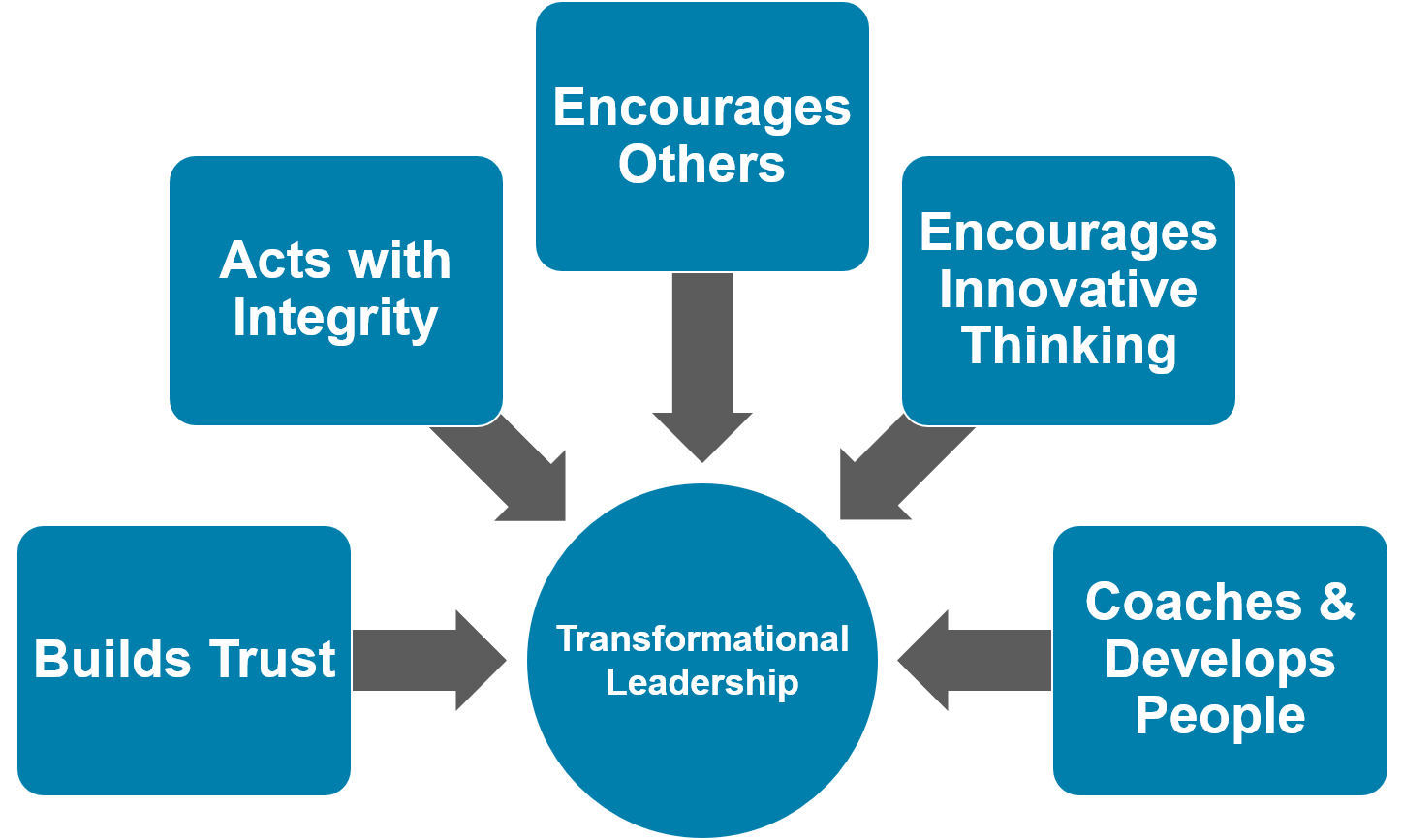 Transformational Leadership encompasses five leadership behaviors:
Builds Trust: These leaders go beyond their own individual interests and focus on the interests of the group in order to inspire power and pride in their followers.
Acts with Integrity: These leaders talk about their most important values and beliefs, they focus on a desirable vision, and focus on building a commonly shared mission for the group.
Encourages Others: These leaders behave in ways that motivate those around them by providing meaning and challenge to their followers' work, and encourage followers to envision a better future for the organization as well as for themselves.
Encourages Innovative Thinking: These leaders stimulate their followers' effort to be innovative and creative by questioning assumptions, reframing problems, and approaching old situations in new ways.
Coaches & Develops People: These leaders pay attention to each individual's need for achievement and growth by acting as a coach or mentor.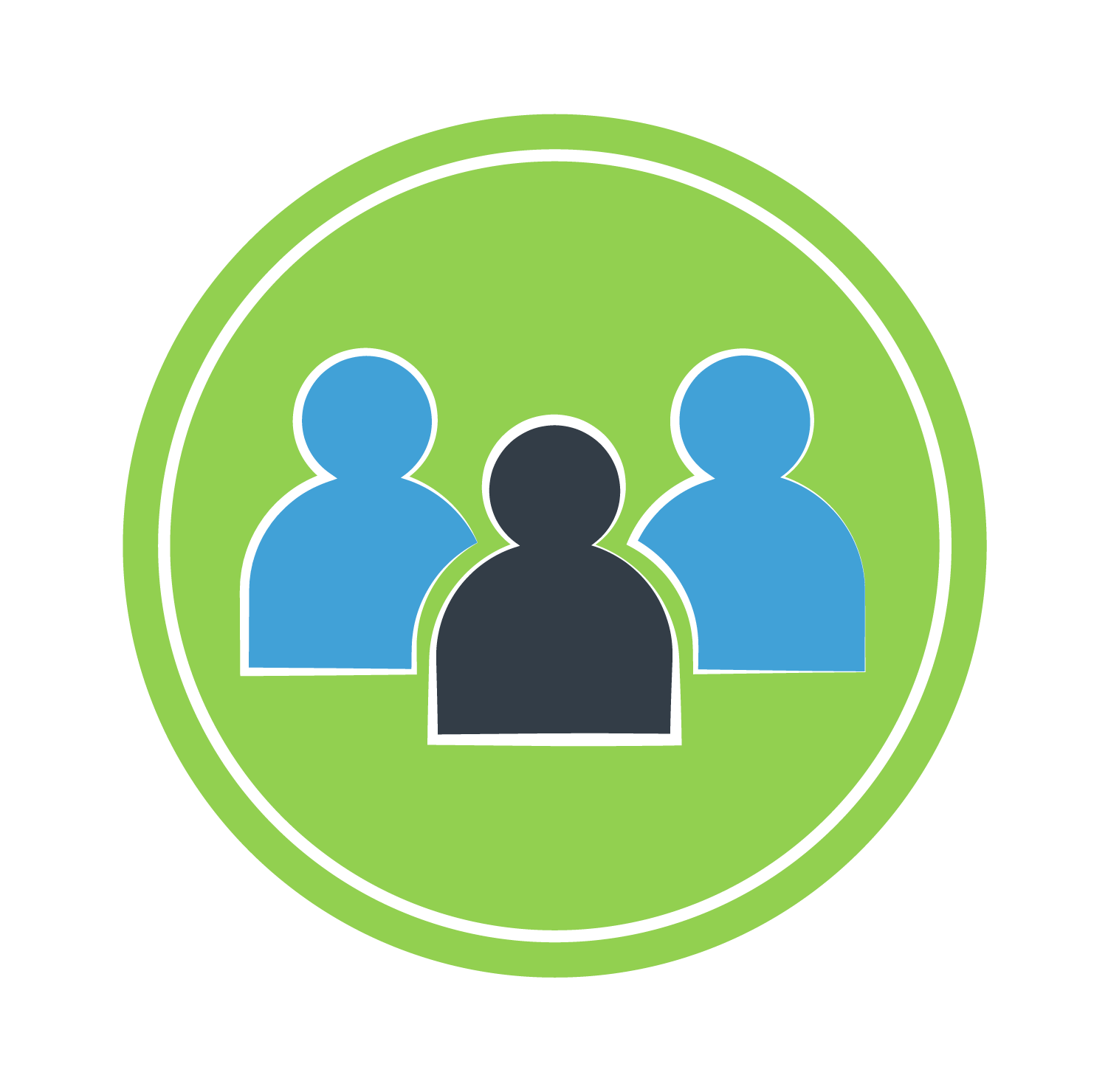 Measure and Develop Transformational Leadership in Your Organization
The Multifactor Leadership Questionnaire™ (MLQ) is the benchmark instrument to measure transformational leadership. Use the MLQ II 360 Suite to measure and develop Transformational Leadership in your organization's leaders. This report provides a deep analysis of a leader's behaviors across a full range of leadership styles by gathering ratings and feedback from multiple stakeholders. It is a critical tool to develop leaders who can successfully initiate and sustain organizational change. You may also want to measure Authentic Leadership, which is related to other positive organizational outcomes, by using the MLQ 360 Leader's Report with Authentic Leadership Styles.
Multifactor Leadership Questionnaire™ is a trademark of Mind Garden, Inc.
Psychological Capital
Psychological Capital (or "PsyCap") is an individual's positive psychological state of development characterized by hope, efficacy, resilience, and optimism. An organization with high employee PsyCap can adapt quickly for successful organizational change initiatives.
PsyCap has undergone extensive theory-building and research and has been shown to:
Help facilitate positive organizational change (Avey, Wernsing, & Luthans, 2008);

Mediate the relationship between supportive organizational climate and employee performance (Luthans, Norman, Avolio, & Avey, 2008);

Positively correlate with desirable outcomes (satisfaction, commitment, well-being, citizenship behaviors, employee performance) and negatively correlate with undesirable outcomes (cynicism for change, stress, anxiety, turnover intentions, deviance) (Avey et al., 2011); and

Positively associate with team performance (Clapp-Smith, Vogelgesang, & Avey, 2009; Peterson & Zhang, 2011).
PsyCap is state-like and can therefore be developed. Luthans, Avey, and Patera (2008) found that PsyCap can be developed effectively and cheaply through a short, highly focused web-based intervention.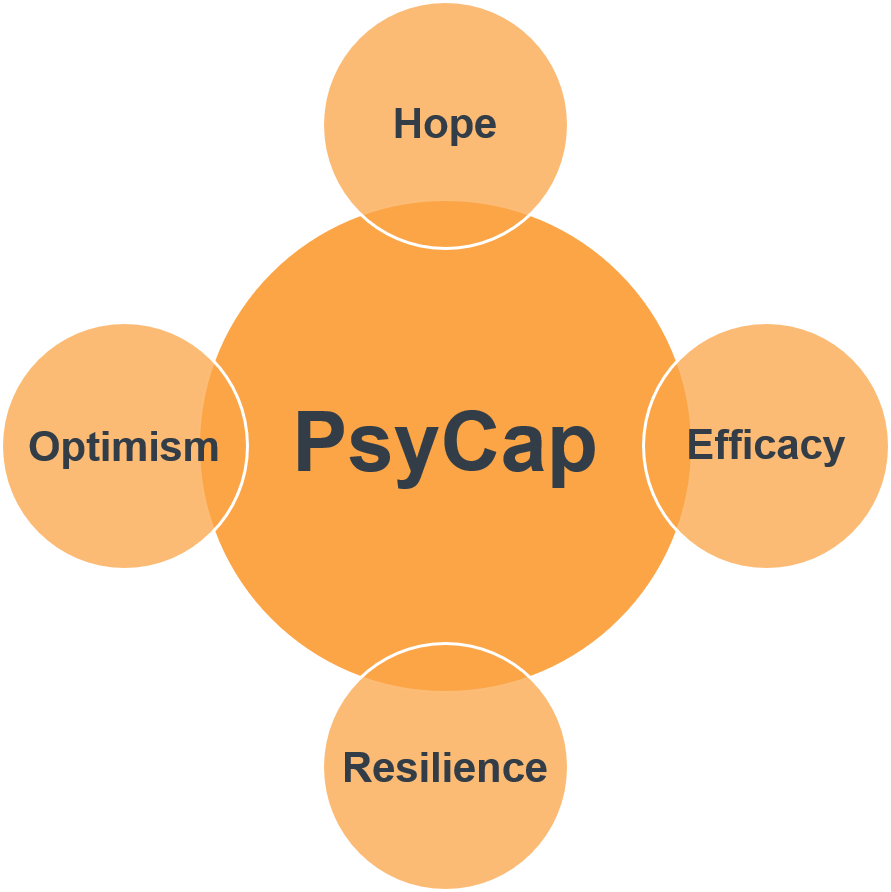 PsyCap encompasses four characteristics:
Hope: the ability to persevere toward goals and, when necessary, redirect paths to goals in order to succeed.
Efficacy: confidence to assume and dedicate the necessary effort to succeed at challenging tasks.
Resilience: the ability to sustain and bounce back or excel to attain success when beset by problems and adversity.
Optimism: the ability to make a positive attribution and expectation about succeeding now and in the future.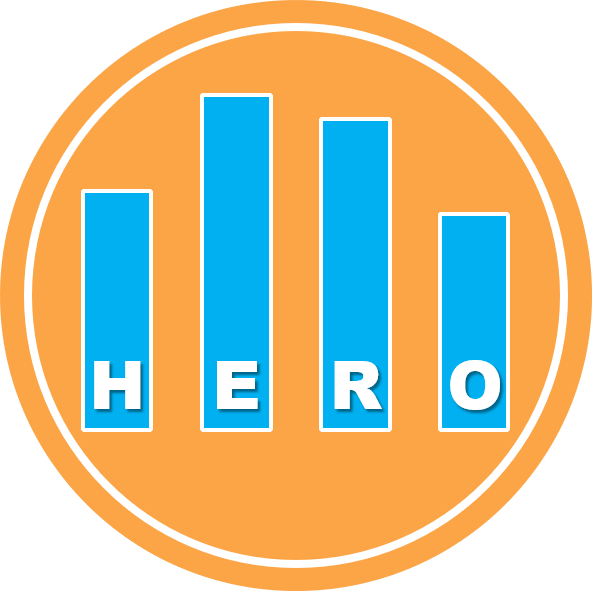 Measure and Develop PsyCap in Your Organization
The Psychological Capital Questionnaire (PCQ) measures PsyCap with 24 items and has undergone extensive psychometric analyses and support from samples representing service, manufacturing, education, high-tech, military, and cross-cultural sectors. Use the PCQ Multi-rater Report to measure and develop PsyCap in your organization's followers. This report provides a deep analysis of your employees' hope, efficacy, resilience, and optimism skills by gathering ratings from multiple stakeholders. The PCQ Individual Report is also available for self-assessments (without ratings from others). Use the PCQ Group Report to gain insight on your organization's average PsyCap. It is a critical tool to establish your employees' readiness for organizational change.
Avey, J. B., Reichard, R. J., Luthans, F., & Mhatre, K. H. (2011). Meta-analysis of the impact of positive psychological capital on employee attitudes, behaviors, and performance. Human Resource Development Quarterly, 22(2), 127-152.
Avey, J.B., Wernsing, T. S., & Luthans, F. (2008). Can positive employees help positive organization change? The Journal of Applied Behavioral Science, 44, 48-70.
Clapp-Smith, R., Vogelgesang, G. R., & Avey, J. B. (2009). Authentic leadership and positive psychological capital: The mediating role of trust at the group level of analysis. Journal of Leadership & Organizational Studies, 15(3), 227-240.
Luthans, F., Avey, J. B., & Patera, J. L. (2008). Experimental analysis of a web-based intervention to develop positive psychological capital. Academy of Management Learning and Education, 7, 209-221.
Luthans, F., Norman, S. M., Avolio, B. J., & Avey, J. B. (2008). The mediating role of psychological capital in the supportive organizational climate-employee performance relationship. Journal of Organizational Behavior, 28, 219-238.
Peterson, S. J., & Zhang, Z. (2011). Examining the relationships between top management team psychological characteristics, transformational leadership, and business unit performance. In M. A. Carpenter (Ed.), Handbook of top management research (pp. 127-149). New York, NY: Edward Elgar Publishing.
Mind Garden is committed to physician well-being and addressing burnout
Mind Garden is one of over 150 organizations that have submitted an organizational commitment statement in support of National Academy of Medicine (NAM) Action Collaborative on Clinician Well-Being and Resilience. See our commitment statement below or view a full list of organizations who have submitted formal statements.

Commitment Statement to Clinician Well-Being and Addressing Burnout
Burnout is a severe problem affecting medical personnel and healthcare organizations. Burnout is defined as emotional exhaustion, depersonalization, and low feelings of personal accomplishment. Burnout has many consequences for the individual including physical illness, increased feelings of hopelessness, irritability, impatience, poor interpersonal relationships with family/coworkers/patients, and drug abuse. In severe cases, burnout can cause diminished executive functioning, attention, and memory. Burnout has many organizational consequences including absenteeism, increased turnover, and decreased job performance. These consequences can have a direct negative effect on patient safety, satisfaction, and quality of care. Burnout must be assessed for severity and cause, and remediated by individual intervention and sophisticated organizational change programs.
Mind Garden is fully committed to the development of products and services that support researchers, healthcare organizations, and medical personnel in the assessment, prevention, and remediation of burnout in the medical field. We will continue to work in the following areas:
Assessment
Publish and support the Maslach Burnout Inventory (MBI): The MBI is recognized as the leading measure of burnout and has been validated by extensive research since 1981. The MBI is used to assess professional burnout and understand the nature of burnout for developing effective interventions.
Offer specialized forms and reports for medical personnel.

Offer MBI assessment ease and efficiency via our Transform™ online survey hosting system.

Support the MBI Individual Report to aid individual intervention. Strive to develop and discover additional personal development resources tailored to understand and alleviate medical personnel burnout.
Support the MBI Group Report to aid organizational change programs. Strive to develop and discover additional organization-level resources tailored to understand and alleviate burnout in healthcare organizations.
Publish and support the Areas of Worklife Survey (AWS): As a companion tool to the MBI, the AWS scores profile can help identify work-setting causes of burnout.
Offer Customization Services: Support survey customization and Group Report customization on our Transform™ system. We are determined to make it easy and affordable for healthcare organizations and other stakeholders to collect and interpret burnout scores. Burnout data can be parsed by demographics such as hospital/clinic location and medical specialty.
Support Affordable Research: Offer products and services at reasonable rates to support affordable assessments by researchers and students.
Prevention and Remediation
Develop educational resources: In conjunction with burnout researchers, provide information to educate medical organizations about burnout prevention and remediation.
Support burnout measurement at the individual and organizational levels.
Publish burnout surveys: Provide surveys that facilitate a better understanding of the extent and cause of burnout.