Features of the GEFT
Purpose: Assess cognitive style and analytical ability by measuring field-dependence and field-independence.
Length: 25 items
Completion time: 20 minutes (two timed sections)
Target population: Older children, adolescents, and adults
Administration: For individual or group administration
Uses of the GEFT
Personal development counseling
Career counseling
Organizational assessment
Scale
Field Independence/Dependence
Sample Item from GEFT Booklet: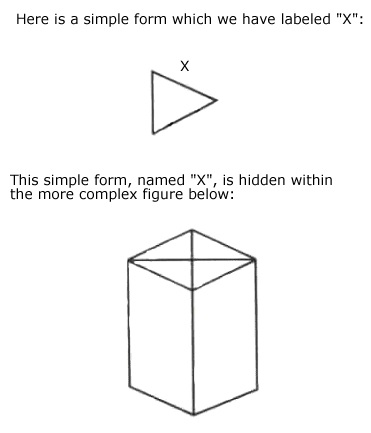 If you are unable to find the translation you need, you can request permission to make a translation.
Available with GEFT Booklet:
These translations are of the instructions only (GEFT items are images) and are available free of charge with your purchase of the booklet pack. Each pack contains the English instructions and the translated instructions on separate pages. To order, select your language from the Translation drop-down list on the product page. Need multiple translations? Contact us.
Dutch
German
Japanese
Mandarin
Polish
Portuguese (Brazil)
Turkish
No translations available with GEFT Transform™ Survey Hosting.
Note: We cannot assure translation quality — many are made by individual researchers and we are not necessarily familiar with the particular language or dialect. Some of the translations are partial and typically do not have validation data. Basically, we offer whatever is available to facilitate your work.